The Movie Trivia Schmoedown continues to go strong despite the current pandemic bringing an end to live and studio matches and forcing the league online. Given the unavoidable circumstances, Season 7 is well on its way to being a resounding success.
Each season, we so many wonderful moments – either story beats moments within a match. Some will live on forever, like the XX5XX moment from the inaugural Free 4 All, the reveal of the 5 Horsemen at the LA Live event and The Tackle, but there will also be many moments that are also worth celebrating and remembering that seem to fade out of conversation after a year or 2 due to the people involved no longer competing or the storyline it was involved in having come to an end. Today I want to give some love to those forgotten moments.
The breaking of the 4 Horsemen
Season 3 saw the beginning of factions within the Schmoedown, as John Rocha put together the 4 Horsemen: Rocha, Matt Knost, William Bibbiani and Robert Meyer Burnett, while Tom Dagnino put together the Lion's Den to counter them. It's safe to say that the Lion's Den had the greater success, while the 4 Horsemen came to an end at Collision of Season 4.
Despite a starring debut, William Bibbiani was struggling to get over with the fans, but his yell of "I BETRAY YOU!" as he left the Horsemen to form the Growling Commandos with Ricky Hayberg and Witney Seibold was a big step in helping "The Beast" truly come into his own and set up a rivalry with Rocha. Likewise, after being the top heel of the league, this betrayal gave Rocha the chance to turn away from this and become a more respectful character, leaving a space at the top of the heel tree for Team Action to swagger into.
The "perfect" game
When someone talks about playing the perfect game, thoughts immediately go to William Bibbiani, Dan Murrell, Robert Parker and Kevin Smets. One name that is often forgotten, though, is that of Mark Ellis.
Way back in Season 1, Mark Ellis was pitching a perfect game going into the final round of his quarterfinal against JTE. Now back in those days, the final round was a Jeopardy round, similar to the current betting round in title matches but with Schmoedown Pros able to be as many points as they had.
Both Ellis and JTE got the question right, but "Baby Carrots" had taken the risk of expecting JTE to miss and not bet enough points, losing 11-14. While this match does live on in infamy due to it leading to the Trial of JTE, Ellis' perfect game is a moment that gets forgotten when we look back at the match.
Reilly's greatest flub
Back in season 3, John Rocha (who hosted a Star Wars podcast) forgot that Bespin was featured in The Empire Strikes Back and has never been allowed to forget it. Over time, many of the top competitors have had their own "Bespin moments" that they have never been able to fully live down: Mike Kalinowski's "Pudding" and "Flash", Kevin Smets' "Don't tell Peter" and Ben Bateman's "Giancarlo Stanton". One man who always seems to get away with it, though, is Mark Reilly.
"Then I hit Opponents Choice. I could have let that bad luck beat me. But I kept going and had fun. Then I had the Sandlot moment – and kept going. Who cares. Answer the questions as they come. There were no nerves, just trivia. I kept smiling and knowing that if it was meant to be, it was meant to be." ~ Mark Reilly
During the Speed Round of Reilly's Championship Match against John Rocha, the pair were asked "Which film features the following characters: Billy, Gale, Sidney, Dewey, Tatum, Cotton, Ghostface?" When horror-buff Reilly buzzed in, everyone was certain the he would be giving the correct answer of Scream, but instead he guessed The Sandlot and lost the point. Reilly's reaction when the correct answer is revealed is priceless, but somehow (probably because he still managed to win the match) this great flub is often forgotten by all but Reilly.
2 in a row
Everybody remembers Ben Bateman's recent feat of winning 2 matches in 1 night at Spectacular, where he TKO'd William Bibbiani in the Ultimate Schmoedown Singles Tournament final and then later KO'd Paul Oyama to win the title. While Impressive, it is not even the first time a Schmoedown Pro has won 2 5-round matches in a day.
That feat was achieved by "Dangerous" Dan Murrell at Season 4's Collision. With Mark Reilly holding the Singles title, Murrell defeated both him and John Rocha in a Triple Threat to win the belt back, then had to immediately defend it as Samm Levine crashed his post-match interview to cash in his Free 4 All prize and challenge Murrell for the title.
Now Levine's logic makes sense, that Murrell would be tired after such a big match and not be able to hit the heights again right after, but the GOAT earned his first Perfect Round 1 in the 8 question format (though he did miss the bonus question) on his way to a 26-23 defence.
The great JTE-isms
JTE will always hold a special place in our heart and it is a shame that we do not get to see him compete as much anymore. While he played the heel so well, you could never bring yourself to truly hate him as you were always looking forward to his JTE-isms.
Now some have lived on better than others. His "Jew Bear" from last year's Free 4 All remains in peoples minds due to the recency and the famous "Tricenatorustops" from the first ever Schmoedown against Cobbster is too good to ever forget! But there were also plenty of others from the littlest of evils over the years, from "The jungle rules the kingdom" to the classic answers of "Gwelmo del Toro" and my personal favourite from his Singles match against teammate Jeff Sneider "Japeto".
The other table clear
When we think of table clears at the inaugural Free 4 All, our minds understandably go to XX5XX, but there was actually another one later in the event that could have massively changed the Schmoedown.
The penultimate entrant was Samm Levine, who came to the table and with a score of 3-2-2-2-2 eliminated Robert Meyer Burnett, Dennis Tzeng, Marc Andreyko and Hector Navarro. This meant that the fight for the prize would be between Levine and none other than Tom Dagnino, Leader of the Lion's Den. Now thankfully Levine won the final round 3-1, but just imagine an alternate universe where Dagnino had won the Free 4 All and had a title shot guaranteed for one of his faction. The second half of Season 4 could have looked very different.
The Force is with Sam Witwer
As the voice and likeness of Galen Marek/Starkiller in the The Force Unleashed games and the voice of Maul, Emperor Palpatine and The Son in the current Star Wars canon, it looks like Sam Witwer may have picked up some real-life knowledge of using the Force.
When most people think of Witwer competing in the Schmoedown, they think of his last gasp victory over Ken Napzok to win the Star Wars title at Spectacular II, there were some other moments that really shouldn't be forgotten.
Season 3's match between The Council (Ken Napzok and John Campea) and the Force Bros (Witwer and Freddie Prinze Jr) is probably best remembered for Freddie getting a point in Round 1 that he shouldn't leading to the rule now that answers must be spoken and written on the whiteboard, but that led us to Sudden Death and a great moment. Sudden Death was different back then: A question on the buzzer, if the Schmoedown Pro buzzed in and got the answer right, they had the chance to answer the next question for the win. Now by this pin in the match, Witwer has shown that knowledge isn't really his problem, but he is not fast on the buzzer. So trying to get the win, he jumps in midway through the question, not realising that this would stop the question being completed. With the question standing at "Who is surrounded by droids…" Witwer somehow correctly guesses Obi-Wan Kenobi, before answering the next question correctly to win the game.
Witwer's next appearance was at Celebration in a Fatal Fiveway for the first ever Star Wars title. After missing his 3-pointer in the final round (though I would challenge the wording of the question), Sam seemed off his game and when asked "In The Empire Strikes Back" who barked the order "Shields up!" just before the Falcon buzzed the Star Destroyer's bridge?" he was unable to pull the correct answer of Captain Needa. This miss meant that Napzok and Campea would go to Sudden Death, which Napzok won. Witwer made his return to the Schmoedown in another Fatal Fiveway #1 Contender Match just ahead of Spectacular and found himself in similar circumstances. If he hit his 5-pointer he would win, a miss would see Alex Damon and Joseph Scrimshaw go t Sudden Death. As the question "In The Empire Strikes Back who said "Get a shuttle ready. I shall assume full responsibility for losing them and apologise to Lord Vader." was read out, Sam's face was shocked as he realised the correct answer was none other than Captain Needa, earning him redemption and a shot at the title (as well as handing Damon his only loss to date).
As George Lucas famously said: "It's like poetry, they rhyme."
Macuga v Finstock
The Wildberries became so beloved, it's hard to remember that they were not always a team. But before that, Josh Macuga had been teamed with Finstock, a pairing that did not end amicably. This led to a moment in Season 4 where Josh Macuga and Finstock were set to play a match against each other, with the loser being banned from the league.
The day of the match came, Macuga made his way to the table and then the impossible happened: Tom Dagnino walked out alongside "Finstock" – clearly Marc Andreyko in the Finstock attire (still to date the only other person we have seen don the mask). Somehow the idea that Finstock could be anyone meant that the match continued, and in a complete shock, Josh Macuga somehow managed to come away with the victory over "Findreyko", leading to Dagnino being (briefly) ejected from the league.
Actin v DC Movie News
So this is one that I have to include in its entirety as I absolutely love it. Action were at their heelish best with Andrew Ghai back from suspension and their constant goading of DC Movie News led to a match. Kalinowski had recently found himself without support during his #1 Contender Match against Clarke Wolfe and clearly wasn't happy in the pre-match promos. The match was hard-fought with DC Movie News running through James Bond in Round 2 but gifting Action a strong category of Sci-Fi/Fantasy after they hit Opponent's Choice. Action got the win and then in the post-match interviews things went crazy as Mike Kalinowski severed ties with The League and went off on his own after reducing Adam Gertler to tears.
And this then led to…
Thadd Williams v Mike Kalinowski
Following Kalinowski's break from the league, we were treated to about half a year full of scenes showing Kalinowski taking over control of the Schmoedown by bribing Commissioner Thadd Williams. As well as leading to huge impacts on the league – such as the first ever Innergeekdom Tournament, the debut and rise of Mara Knopic and the Anarchy Tournament – these scenes were also great viewing and deserve remembering as we watch Thadd get further and further out of his depth.
The other Odd Couple
One of the teams to form during Anarchy was that of William Bibbiani and Matt Knost. Not even taking into account their history as former members of the Horsemen, Knost's focus on the game and Bibbiani's love of theatrics never felt a good mix and it was no surprise to hear Bibbiani state on the Finstock Exchange Podcast recently that the first thing they managed to agree on was making their team name "The Odd Couple", only to find that Andreyko and Sneider had beat them to it.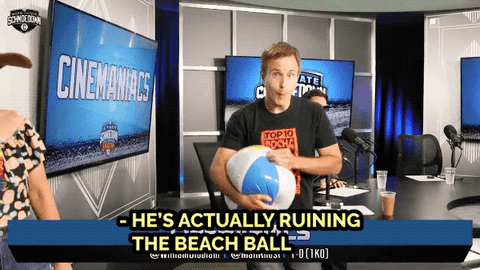 Knost's humour is something many fans have missed since his retirement and one of the best examples was during one of the Cinemaniacs' entrances, where Bibbiani and manager Emma Fyffe came out dancing and playing with a beach ball while Knost trudged out sulkily alongside them, only for him to catch the beach ball and stat to smile and dance as he slowly deflated it.
Please come back Knost!
What other great moments can you think of that seem to have been forgotten over time?